Well, we'd never thought we'd see the day! One very long year ago, the world looked on in awe as public life shut down everywhere in response to the COVID-19 pandemic. But now, as millions of vaccines are administered in the US everyday, we're finally starting to catch a glimpse of the light at the end of the tunnel.
A few months ago, we posted about meal-prep industry trends during COVID, and promised to continually share updates with best practices. With more data available now, we're excited to reveal some of these findings below.
Meal-Prep in COVID-19
This picture looks a lot more complicated for meal-prep businesses. Although every business was impacted in some form by the pandemic, we can confidently say that meal-prep companies have thrived. After all, the promise of contactless deliveries and avoiding trips to the grocery store offered a life-saving, cost-effective alternative for millions of Americans.
By May 2020, big player HelloFresh revealed a 66.4% year-over-year global revenue increase. One study found that 54% of consumers reported cooking more; another found a 7% increase in the share of the population using meal kits since the pandemic began. For context, meal-kit use was stuck at 5% for all of 2019.
For meal-prep businesses, this was all great news. But, we can imagine you've also been wondering: what's in store for us when the pandemic is over? Are these habits likely to persist, with meal-kit use continuing to rise? Or will people rush back to restaurants and never cook again?!
What's next?
One food public relations firm polled 1,000 people and found that more than half of Americans report cooking more compared to pre-pandemic — and importantly, half of those people say they will continue to do so even when life returns to normal. But, of course, we need to understand the motivation behind their attitudes in order to encourage their continued loyalty. Why will they continue to cook? The same pollsters mostly say they'll continue cooking to save money and eat healthier. Plus, they found it relaxing and enjoyable to try new recipes.

And don't forget that even as restrictions ease, many, many offices have found their groove working virtually. A recent PWC survey found that 83% of both employees and employers have found remote work to be an overwhelming success. No one's quite ready to rush back to the office.
What is & isn't working now
Let's start by looking at what's working now, and then strategize how we can continue to build upon these efforts in a post-COVID world.
Based on our extensive research, these are some of the key qualities driving so much of the meal-prep industry's success today:
Time-efficient
Cost-effective
Allows newbies to gain confidence & try exotic dishes with hands-on instruction
Helpful for unconventional working schedules
Helpful for virtual workers
Helpful for the elderly/immunocompromised looking to avoid grocery store trips
Offers variety for families and individuals
So what about the cons to meal-prep kits? What were the gripes so many people had with meal-prep kits before the pandemic began?
According to RetailWire, customers gave the following reasons for cancelling subscriptions:
High prices
Small portions
Too much packaging
Inconvenient delivery schedules
Inflexible and repetitive meal options
Looking Forward
Despite vague claims by journalists that the meal-kit market is sure to die once COVID-19 is over, our research has made us optimistic for the continued growth of the industry.
If you're not so convinced, take the May 2020 report by Grandview Research, which predicts that the global meal kit market size could reach nearly $20 billion by 2027.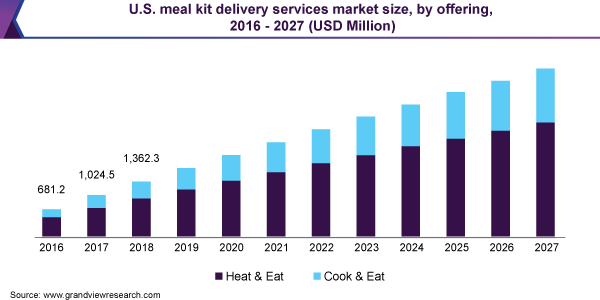 Industry leader HelloFresh even announced it expects revenue growth of 20% to 25% just in 2021.
---
Stay tuned for our next blog, where we'll provide concrete tips for your meal-prep company to sustain growth as COVID-19 regulations ease and consumer behavior shifts.