In today's busy world filled with work, hobbies, and family time, finding time to prepare and create dinner every evening is getting more and more difficult. Thankfully, solutions to this problem are being offered by meal prep delivery services. Having meals pre-cooked and delivered to your door is convenient, time-saving, and less wasteful. People are beginning to catch on and now is the perfect time to start a meal prep business.
The demand for meal prep delivery services is growing and there is a big opportunity for anyone to start a meal prep business. If you are thinking about starting your own meal prep business, we've given you the steps below on how to start your own meal prep business.
What is Meal Prep Delivery?
Meal prep delivery is a pre-cooked, pre-proportioned meal that just needs to be heated up. The meal is prepared and shipped to the customer, ready for the customer to just heat it up at home. The meal is prepared, pre-cooked, and just needs to be heated up.
The idea of meal prep delivery is for the customer to save time cooking a delicious meal even if they aren't much of a cook. Read on to find out just how you can start your own meal prep business.
1. Choose Your Meal Prep Business Concept
Before you can start your meal prep business, you first need to come up with a concept for your meal prep delivery service. Below are some key questions you need to ask yourself to help you decide how you'd like to run your meal prep business in terms of the food and who your customers will be:
What Type of Cuisines Will You Serve?
What kind of food are you delivering? Are you an expert in a certain traditional or ethnic food? If so, then your meal prep business would be a great way to introduce that cuisine to potential customers who may want to learn more about a certain cuisine. You could also create a fusion concept, blending two or more cuisines to create something new.
If you are not an expert in certain traditional or ethnic food, you could try framing your meal prep delivery service around an idea such as healthy foods or low-carb meals. You could also make your business about specialty ingredients that people may not have ever eaten before.
Dietary Restrictions
Billions of people live with certain restrictions to their diet, be it allergies, religious rules, or just lifestyle changes. You should cater to these specific needs to capture as many potential customers as you can.
Target Market
Having decided on the type of cuisine you will be delivering, think about who would benefit from your meal delivery service? Who is your customer base? Whether it is everyone, people busy with work, college students, or people who just don't want to cook, you need to keep this demographic in mind. When you are making premade dinners that just need to be heated up, market your service to busy career people who don't have time to cook a big, healthy dinner.
In the age of the internet, it is difficult to market to everyone. There are already small businesses and nationwide suppliers offering meal subscriptions to everyone. You need to think about a niche for your service to stand out from the competition. Do your recipes use game meat that people don't eat daily? Do you make high-protein vegan meals for vegan bodybuilders? Your niche can be your biggest marketing point.
2. Write a Meal Prep Business Plan
Just like with any business you create, big or small, you need to create a business plan. A business plan gives you a solid foundation to start your business and is very helpful in getting loans from investors, forecasting sales, identifying tasks, and map out how to build your meal prep business.
A business plan for a meal prep delivery service should include the following:
Executive summary
Description of the company
Meal concept and menu
Business structure (management and ownership)
Employee and staff requirements
Market and competition analysis
Marketing strategies
Finances
3. Obtain Funding
Now that you have your business plan which helps to forecast the finances of your meal prep business, you'll know the starting capital you'll need. Even if you're starting your meal prep business from home, you're still going to need supplies and equipment for your meal prep business.
Starting with something bigger? You will need to add up the costs of rent, staffing, supplies, utilities, and other expenses. From there you can create a budget and start gathering funding from investors or loans or other means.
4. Find a Meal Prep Workspace
The next step is to find a workspace from which to operate your meal prep business. If you're working from home then your personal kitchen is going to be where you run most of your operations. Planning on something larger scale? Then you'll need to find a workspace with enough space and equipment to meet demand. You could run a ghost kitchen operation (no sit-down restaurant, just meal delivery), or expand your current restaurant into a meal prep delivery service.
When looking for a workspace you will need to find a building that has separate areas for the following:
Kitchen: this will be the most important area. There needs to be enough room for the size of your operation as well as the necessary things for recipe testing and meal kit preparation.
Packaging Station: you will need a specific space for putting meals together and packaging. This space is needed for organizing, handling, and tracking orders.
Shipping and distribution: here is where your meals will be loaded onto trucks and or taken to shipping centers. Make sure there is enough cold storage space for your meals.
Office space: a dedicated space for the admin side of your business. A space for desks, computers, and phones for your sales, accounting, and customer service teams.
Meeting rooms: if you are going to host potential clients or investors for an on-site meeting, having a dedicated room for business is a great investment.
5. Obtain Permits
Whether you run your meal prep business from home or in a facility, you will need to obtain the necessary permits and licenses to operate your meal prep business. What licenses and permits you need will depend on local laws and regulations, but here is a list of some of the permits you may need to get before you start operating:
Employer Identification Number (EIN)
Seller's Permit
Business License
Food Handler's License
Catering License
Health Department Permits
Zoning Permits
Dumpster Placement Permit
6. Order Supplies for your Meal Prep Business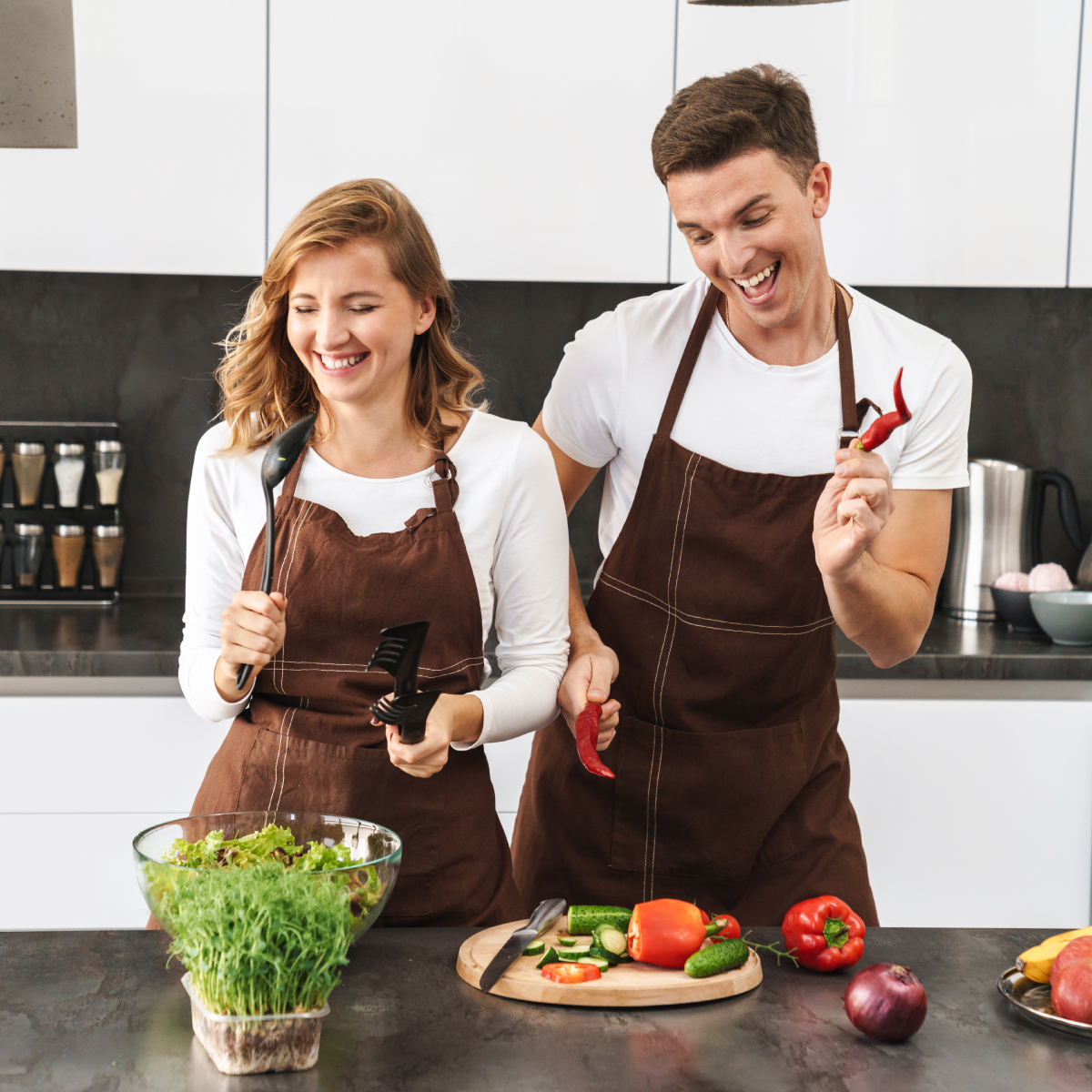 Before you can begin making your meal kits you're going to need to buy supplies.
First, you will need to buy ingredients for making your meals. Buying ingredients in bulk is the best way to keep costs down. For how much you will need to buy you can base off on your projected sales. Using meal prep delivery service software (like Sprwt.io) is advantageous as the software can automatically generate a shopping list for you based on the orders customers have placed.
You will also need to purchase packing supplies. What will you be putting your meals into for delivery? Before you buy your packaging supplies, you need to think about the unboxing experience of the customer. Meal presentation should be an important factor to consider when buying containers and packaging for your pre-made meals.
After packing the meals need to be sent out. Here is where you need to think about the shipping supplies you will be using. Besides boxes, tape, and labels, don't forget dry ice or ice packs to keep your meals cold and fresh.
7. Setup Your Shipping Strategy
Once a customer's pre-cooked meal is prepared, packaged, and sent out for shipping it now needs to get to the customer. The customer's order shouldn't just arrive safely, but also cold and fresh. Figure out how you're going to keep meal kits cool during shipping.
You'll also need to decide on a shipping service to use and how much shipping will cost. This is made pretty easy and simple using meal prep software such as Sprwt.io.
8. Create a Meal Prep Business Ordering Platform
This is where your customers will be ordering their meals from. Your website will be where customers come to order their meals and so should be as perfect as you can make it.
There are a few ways you can go about creating your meal prep business ordering platform. You could hire a development team to design and code your custom website, but this can get expensive. You could also go the cheaper route of making the website yourself using a website building platform or learning to code. But building the website yourself can be quite hard and very time-consuming.
Your best bet is to create your website using meal prep software. Meal prep software like sprwt.io on the frontend allows you to easily create a custom website for your meal prep business as well as your own custom menu. On the backend, meal prep software also helps with the admin side with features such as automatically generating shopping lists for upcoming orders, tracking which orders need to be prepared and shipped when, point of sales, etc.
9. Hire Employees for Your Meal Prep Business
Do you want to start as a small, local business or as a large team that distributes nationally? Either way, you are going to need to hire staff that will help your meal prep business bring easy, convenient meals to customers' doorstep.
Kitchen staff will probably be your most important hire. These cooks will help get the meal prep work done as well as help create future recipe ideas. Marketers will take care of the advertising of your pre-cooked meals and help get your meal prep business' name out to the world. Packagers will get your customers' orders ready by helping with proper meal storage as well as packing and sending out everything safely. Customer support specialists will step up your customer service by helping you deal with customers' questions, complaints, comments, and reviews.
10 Advertise Your Meal Prep Business
Thanks to your business plan you now know your target demographic. Your meal prep business is also all set up and ready to start. Now it's time to advertise your meal prep business to your target demographic and let the world know you're open for business. Below are some ways you can advertise your business:
Social media
Facebook ads
Instagram ads
Google ads
Email lists
Feature ads on podcasts
Sponsor popular Youtube channels
You can also use some great marketing tools on your website to gain or retain customers. Sprwt.io, for example, is a meal prep software that allows you to do the following:
Offer a loyalty cashback program
Giftcards
Referrals
Website pop-ups showing updates
Conclusion
Now you know all the details and steps on how to get your very own meal prep delivery business setup. Whatever cuisine or niche you choose, you now know how to set it up, what tools to use, and how to run your meal prep business successfully.
Did you know Sprwt is coming to Mexico? It is! Check here for more details.
Want some tips on maximizing post-pandemic profits? Check our article on how to maximize post-pandemic sales.