As we all know too well by now, many industries have been hit hard by COVID-19 since last March. Most industries have had to quickly shift common practices and adapt to an entirely new, unfamiliar business landscape. The meal-prep industry is no exception.
Now, looking back, we can reach a more comprehensive understanding of the trends seen during this pandemic that will surely shape the meal-prep industry in the future.
The Meal-Prep Industry in COVID-19
Generally speaking, whether you sell meal-kits with fresh ingredients to prepare, or fully-prepared meals that simply need to be heated up, chances are you've seen an uptick in sales. As more and more Americans continue to stay home and avoid crowded areas like grocery stores, even after state mandates have ended, the demand for meal delivery has skyrocketed.
As early as March 30th, 2020, only a few short weeks into the pandemic, companies like Blue Apron, HelloFresh, and HomeChef have seen a rise in customers, including many first-timers. One study also found an increased interest in home cooking, with a large segment of "lockdown chefs" looking for healthy meals that are not time or labor-intensive and can be easily repeated. The meal-prep industry perfectly meets this need. Data from January to May 2020 reveals that meal kit interest has increased most significantly among individuals aged 18-24 in the US and Canada.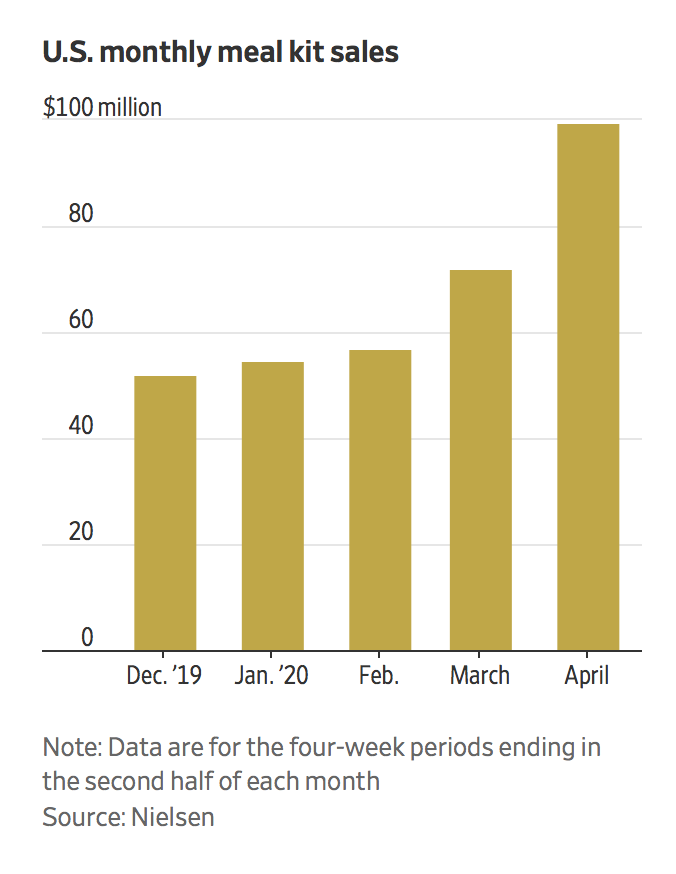 Co-founder and CEO of Brightback remarks that meal-prep services should focus on offering flexibility, "like expanded delivery options, free access to other offerings from the company or credits that a customer can use in the future." Moreover, he points out that due to the rise in some temporary living situations, as individuals are abruptly forced to quarantine or leave home, customers should be able "to skip deliveries easily or pause their subscription online."
---
Looking Ahead – What are the Trends?
By July, some news sources predicted that the surge in meal-kit use is unlikely to linger after COVID-19 ends. At the very least, many predicted meal-prep companies would have to make some changes to keep up with the return to restaurants. But for now, let's look at several trends that have developed and will shape the industry in 2021. The marketing agency Linchpin published a list of the top ten trends to be aware of, summarized below. We're going to elaborate on a few.
1. Sustainability Commitment
Compared to grocery stores, meal kits are much more environmentally friendly in terms of waste. Still, consumers are looking for, and will continue to prioritize, packaging improvements from their beloved meal-prep companies. To name a few, we can expect to see less plastic, more compostable packaging, and insulation made from recycled materials in 2021.
2. Diet Specialization
Sifting through recipes at home or menus at restaurants to craft meals that fit certain dietary restrictions can be exhausting. Meal prep kits can make following a diet much easier, especially when they cater to niche diets, such as gluten-free, keto, or vegetarian meal plans. Offering a gluten-free option is one thing, but offering an entire gluten-free meal plan is entirely another, and something to consider depending on your target market.
3. Organic Foods
Organic foods can be difficult to find in grocery stores. What does organic farming exactly mean, though? Think: ecosystem preservation, consideration for water supply, and biodiversity. Meal kit services can and should dedicate themselves to acquiring organic foods that meet these standards.
4. Catering to Lifestyle Choices
Think about the investment banker who barely has time to feed himself. Or the vegan who needs to avoid any foods that are animal-based – not just meat. Your meal-prep company should cater to a wide range of needs, whether it be minimal time or certain dietary restrictions.
Increased Meals
Most meal kit services provide dinner only, but that won't be enough.
Competitive Pricing
Pre-Made Meal Choices
Large Companies Buying Smaller Ones
Extended Delivery Services
Some companies are beginning to offer multiple delivery times throughout the day, allowing customers to have fresh options for all three meals.
10. Outside Investments
---
It's only the first month of 2021, so, of course, these are only a few trends to be on the lookout for. We'll continue to monitor the meal-prep industry landscape, and keep you informed of best practices, while adding new features to the Sprwt software that help you surpass client expectations.
We've designed Sprwt to allow your meal-prep company to keep up with the ever-changing trends of the meal-prep industry, especially during a global pandemic. Whether you started your company two weeks ago or ten years ago, we're here to help you fulfill the needs for flexibility, variety, customization, and so much more.
---
If you're new to Sprwt, don't hesitate to LEARN MORE about us by booking a demo with one of our agents. Or maybe you're ready to update your Sprwt software to the next level. Click here https://calendly.com/sprwt/demo/?month=2021-01 to book a demo today!
And, check out our customer testimonials at http://sprwt.site/our-customers/ to get a glimpse of your future success with Sprwt.